Simple and Secure Web Server
Beyond is an application for running web servers on your Mac. Beyond is easy to use, simple to set up, and secure by design. You will be running a web server in seconds.
Beyond creates a web server on your Mac. Open the Beyond application and seconds later your web server is ready to browse and share. Setting up the web server is as easy as choosing a folder on your computer. The chosen folder becomes the source of the web server's files.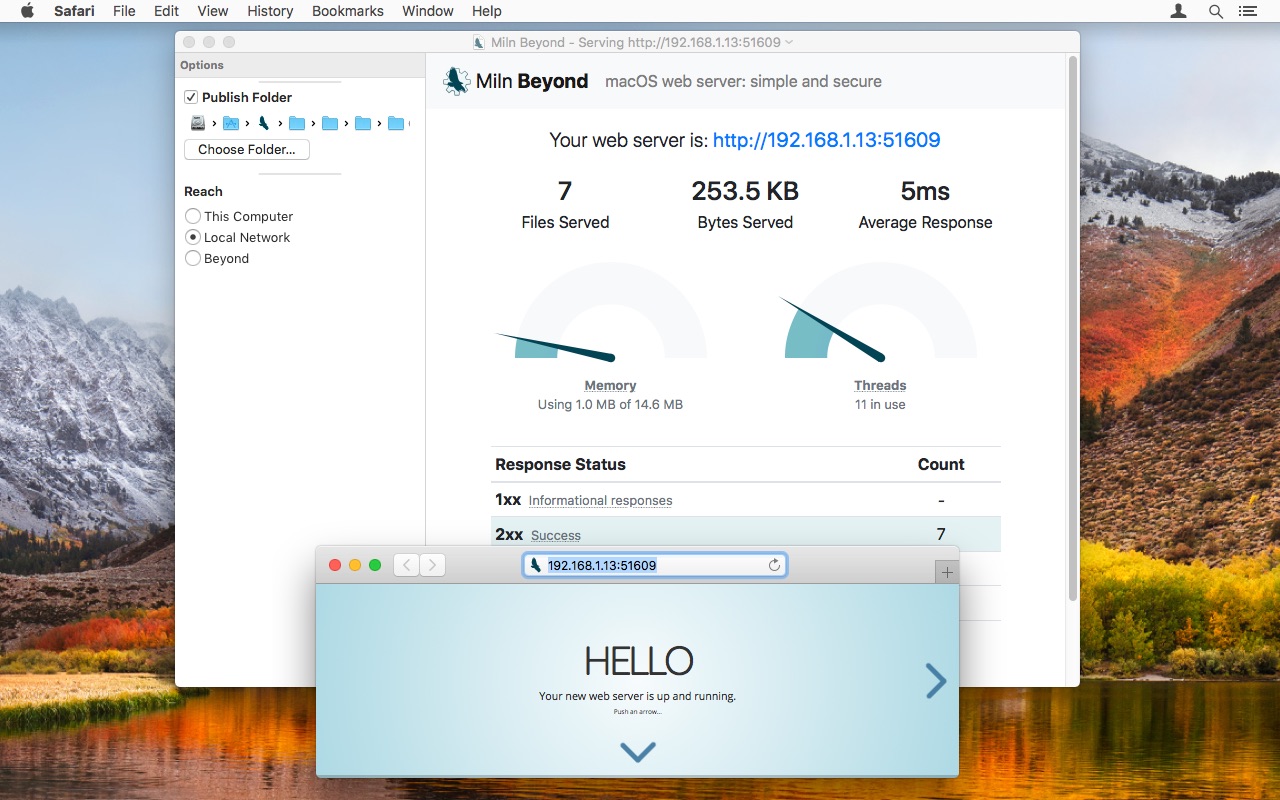 Using Beyond is easy; there are no complex configuration files, no security risks, and no technical knowledge required.
Need a quick way to share files? Use Beyond.
Need to test your new web site privately? Use Beyond.
Need a safe and easy web server? Use Beyond.
Simple
Beyond is simple. Every Beyond document is a web server. Starting and stopping the server is as easy as opening and closing a document.
Creating a web server in Beyond is effortless:
Launch Beyond.app
Select 'Choose Folder…' and select a folder
Click the server link to browse your site. Your web server is running!
Secure
Beyond is document based. Each document is an independent web server. The Beyond application and the embedded web servers are sandboxed to protect you and your files.
Each web server can only read from the folder you chose to serve. The server can only serve static files; there are no executables or scripts to worry about.
Beyond does not need an Internet connection or even network access to work. You can control the reach of the server. Limit serving to the computer, to the local network, or go beyond your network.
Everything needed to get started is included within Beyond.
Mac Savvy
Beyond is a true Mac app. Built around a modern document based architecture, Beyond includes support for:
AppleScript
Automator
Drag and Drop
Undo/Redo
File Versions and Time Machine
Finder Service
Power Management
…everything you expect from a Mac app.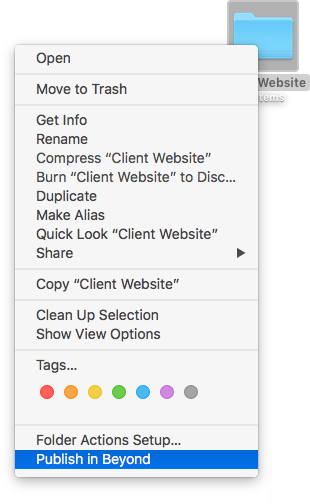 Dashboard
Beyond's dashboard shows you all you need to know about your web servers. The dashboard shows how many files and the amount of data that has been served. Gauges show the memory use and number of processing threads. The log lets you see every request made to your server and where it came from.
Powerful Server
Beyond's tiny memory requirement and multi-threaded performance will delight. Want to run many servers on your laptop? No problem. Beyond is light weight and tuned for performance.
Beyond supports NAT-PMP and UPnP protocols for setting up access beyond your network.
Change each server's Reach to limit who can and who can not access your content. Beyond offers three levels of Reach:
This Computer

Only accept connections from the computer. No access from the local or public network.

Local Network

Accept connections from the computer and from the local network. No access from the public network.

Beyond

Accept all connections. Attempt to open a public port via Network Address Translation (NAT).
Members Only
Want to easily get your server onto the Internet? Want more control? Buy a Miln App Membership. Membership includes:
access to advanced options, including passphrase protection for your server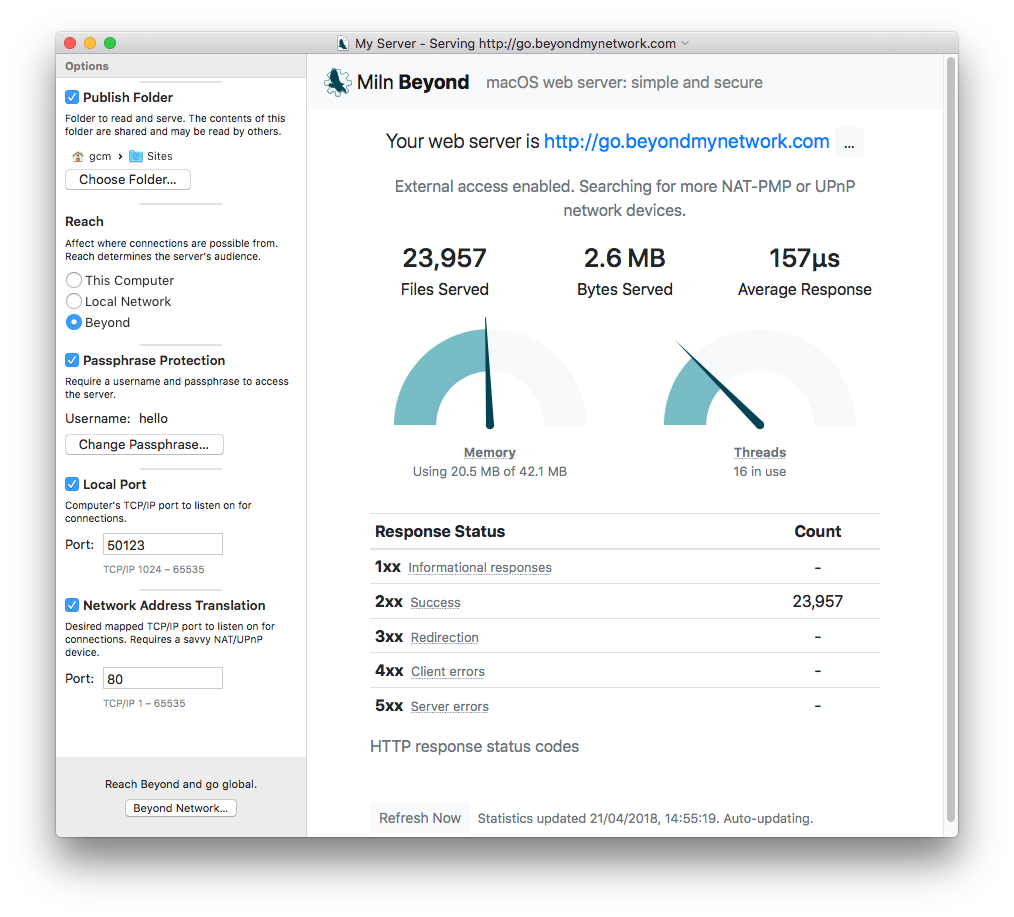 What use is a server if it can not be found? With a server running, the next step is to get your server onto the Internet.
Members learn in seconds if they are reachable from the Internet. This important step requires help from outside your network. As a member, Beyond will automatically work with our services to figure out your server's public address.
Unlike other services, we actively test both inbound and outbound traffic from your computer. If Beyond says it is verified, you can be sure the address is right.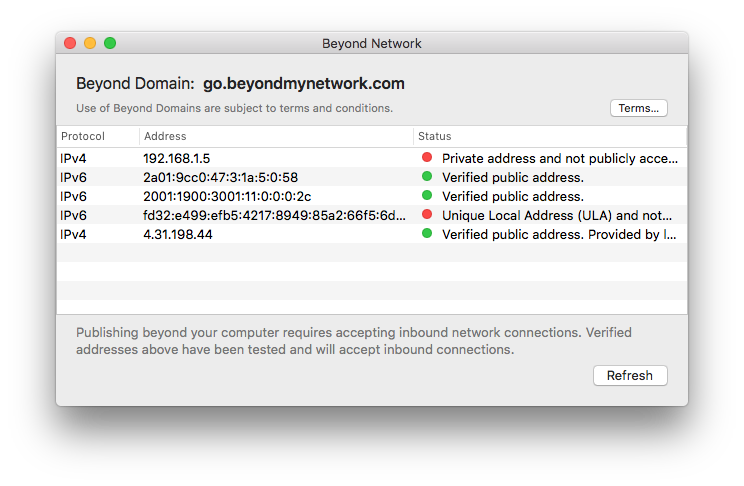 Verified servers are assigned a Beyond Domain – a unique and memorable domain name. With a Beyond Domain others can reach your server through the web, just like any other website.
Members also gain access to advanced settings including passphrase protection. With passphrase protection you can limit who can access your server.
Beyond is no longer available through Apple's Mac App Store.