Do More With Your Memories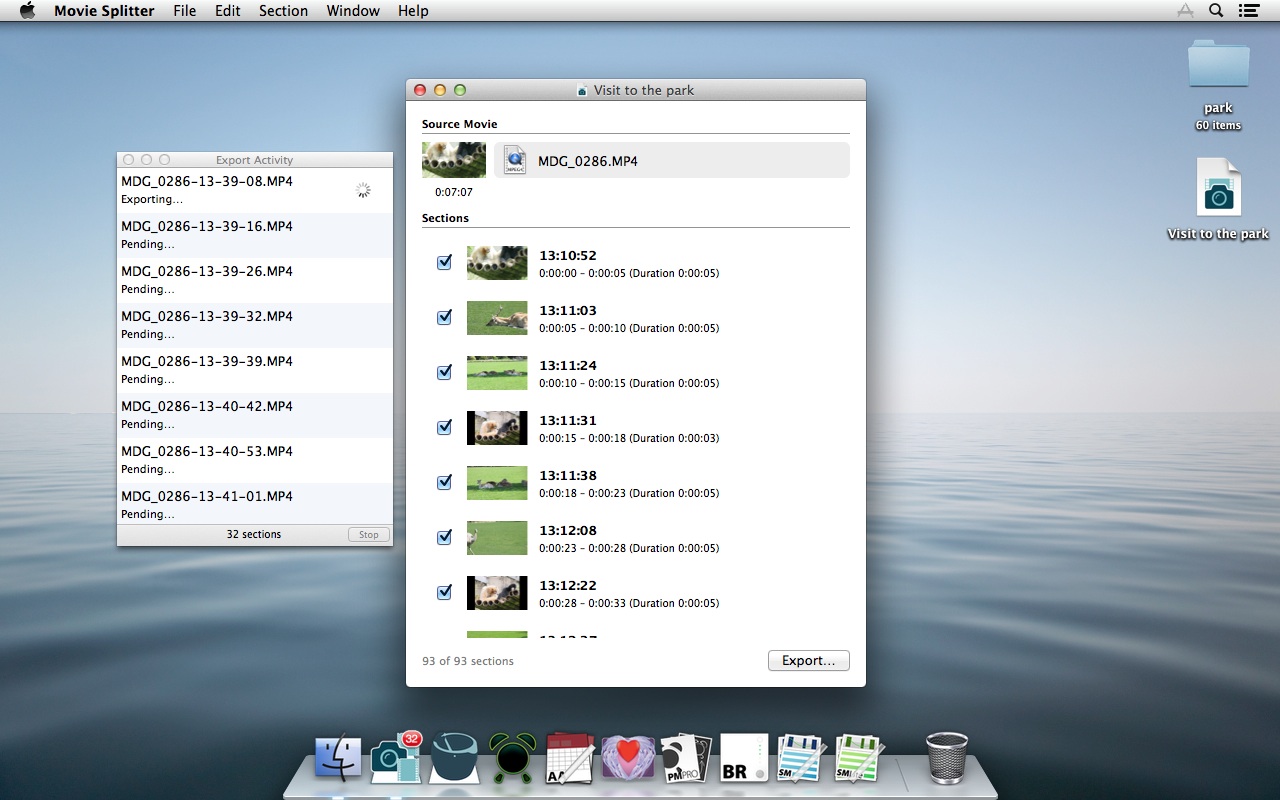 What does Movie Splitter do?
Movie Splitter splits a movie into smaller parts. From a single movie, Movie Splitter creates a folder of smaller movies; each smaller movie being a section of the original.
Movies can be split using chapter information embedded within the source movie. Chapter information is automatically detected by Movie Splitter.
How can I split a movie?
A movie can be split into small sections using a range of approaches:
Automatically by chapter marker
Into two halves
Into four quarters
Into unlimited custom sections
Into regular durations; 1 second to multi-hour sections
Designed for Canon's Hybrid Auto
Movie Splitter takes Hybrid Auto movies created by the latest generation of Canon cameras and splits them apart into individual clips. Quickly turn your movie digests into single clips for easy editing and sharing with friends.
With Movie Splitter, you can extract a handful of your best shots from a Hybrid Auto movie. No more bad shots ruining your movie memories of the day.
Hybrid Auto movies typically appear on your camera as files starting with MDG_. Hybrid Auto is available on most modern Canon cameras including:
G1 X Mark II
G16
S120
SX700 HS
SX600 HS
N100
ELPH 340 HS
Tested with IXUS 265 HS and PowerShot SX700 HS.
See Movie Splitter in action on YouTube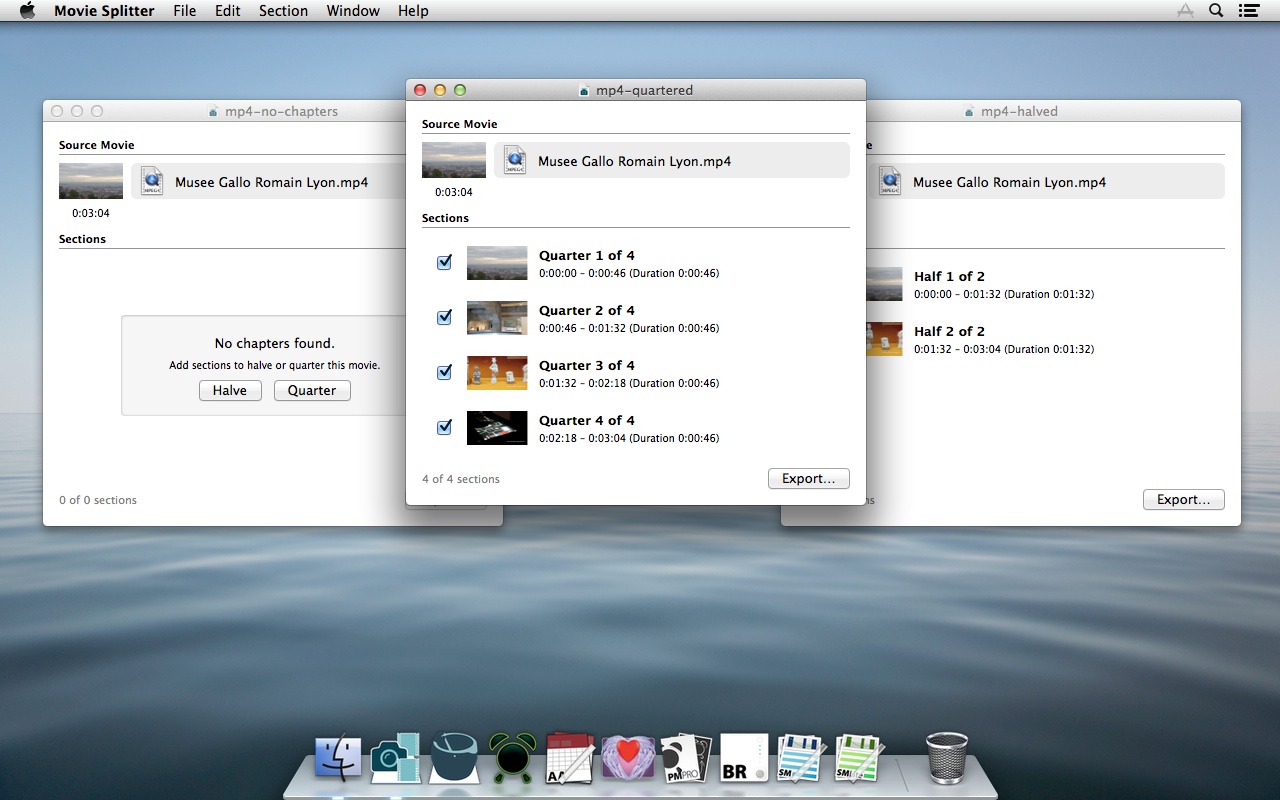 Automatic Chapter Detection
Chapter information can be encoded either as a 3GPP track or as a QuickTime chapter track. Movie Splitter supports both these common methods of embedding chapter information. If present, Movie Splitter will find and create sections for each chapter.
If no chapter information is embedded, Movie Splitter will offer to halve or quarter the movie.
High Quality
Movie Splitter does not re-encode the movie. Instead exported sections are passed through untouched, except for being trimmed to the desired chapter or length. This ensures the quality of the original movie is maintained. Movie Splitter does not affect the original movie.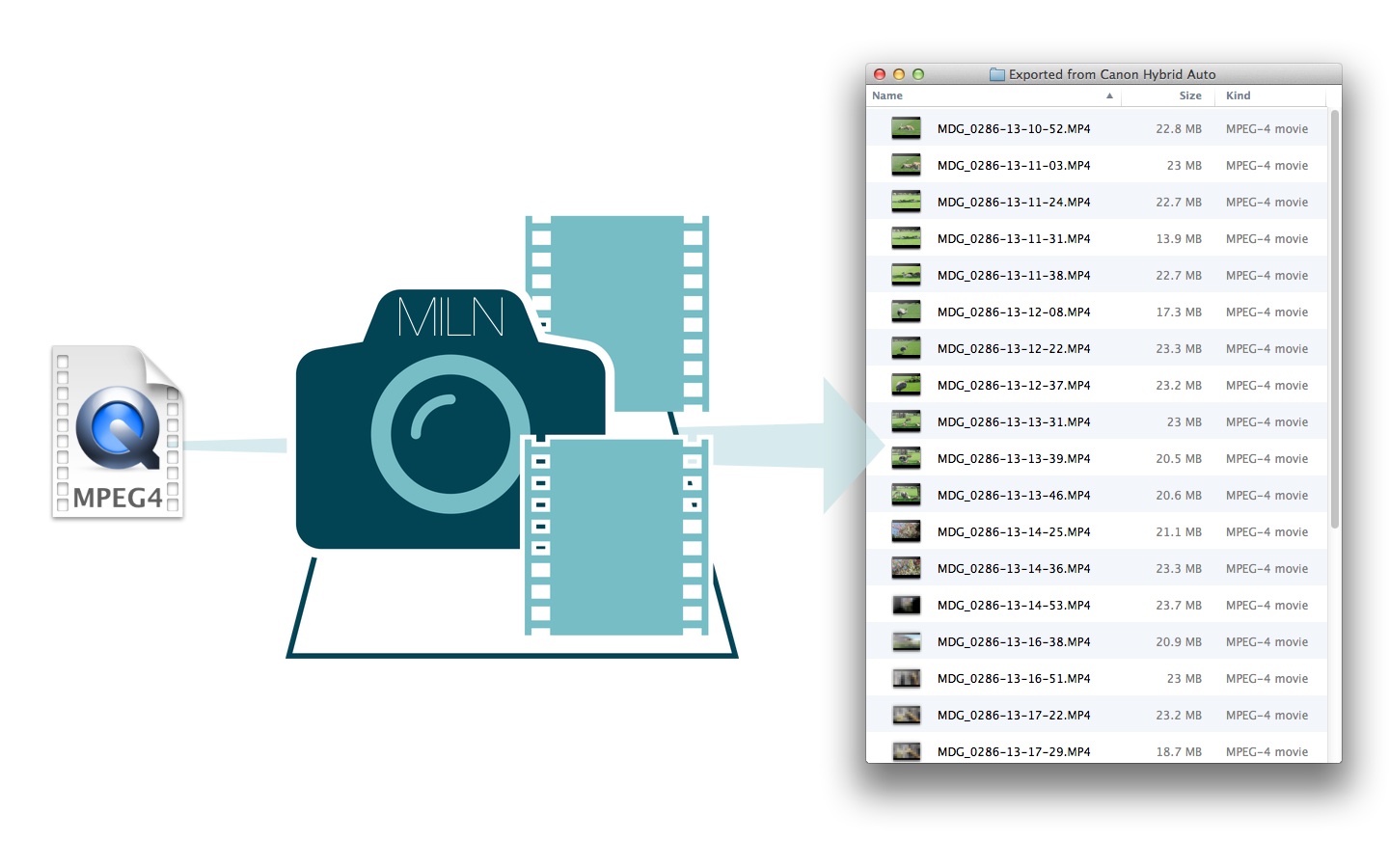 Multicore and Streamlined
Movie Splitter is streamlined for modern Macs. The exporting process is performed in the background and does not interrupt or block you. You can queue up hundreds of sections for splitting and exporting.
There is no need to watch and wait. Open your movies, decide how to split, and click export. Movie Splitter will begin splitting up the movie in the background, leaving you to do other tasks.
While exporting, Movie Splitter shows a count of the remaining sections in the Dock. When the export queue is finished, a notification appears in your Notification Center.
See Movie Splitter in action on YouTube
Movie Splitter is no longer available through Apple's Mac App Store.
Latest Changes
v1.7.2
Change: Removed need to tab after seconds entry.
v1.7.1
Bug: Fixed software update.
v1.7
New: Add creation of sections before and after selection.
New: Export JPEG thumbnails of sections.
New: Added shortcuts to custom section menu items.
New: Copy sections as tab-separated text.
New: Import or paste sections from tab-separated text.
New: Export sections as tab-separated text.
New: Remember last exported format and name choices.
Change: Custom section switched to floating style controls for larger buttons.
Change: Increased minimum supported macOS to 10.13.
Change: Updated UpdateKit library.
Bug: Fixed layout of export format options.
Bug: Fixed software update.